Aligning Your Business Strategy with Your People Strategy
by Ashley Ward
Often, businesses create robust strategies for success while forgetting to prioritize one important core value of their companies — their employees. While most companies only focus on creating a business strategy and monitoring its sequential business results, they do not know how to assemble a high-performing team that pushes each employee to reach the top of their game—something we need more than ever while sales bounce back and workers continue to return from furlough. 
While the business climate is subject to change over time, the answer to engagement and productivity remains the same: Talent Optimization. If organizations want to harness engagement and productivity and HR teams want to get back to strategy, the focus is simple. Talent Optimization is all about connecting business strategy to business results! 
The Talent Optimization Platform is designed for the entire lifecycle of an employee from role design to succession planning. Think, "hire to retire!"
What are the key components of Talent Optimization?
The Talent Optimization framework focuses on four key areas that align with the four forces of disengagement: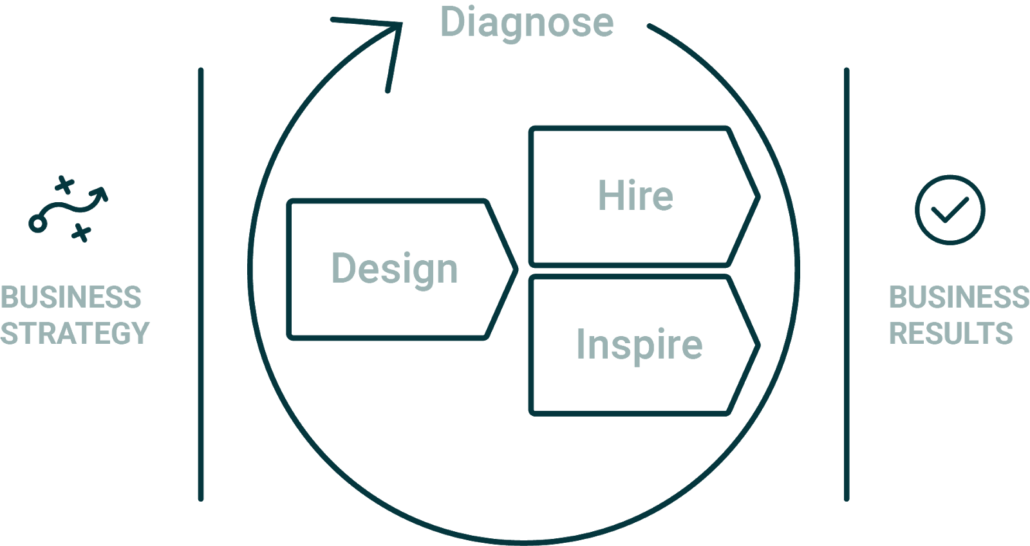 Hire
Get the right people in the right seat. Using data and analytics, the corresponding behavior assessments predict candidate success and engagement. No matter how great the leader and the organization's culture are, if it's not the right job, it's not the right job. 
Inspire
We've all heard the adage, "people leave managers, not companies", and we believe that's true today more than ever. Once you've got the right person in the right seat, engagement and productivity fall to the leadership team. For every amazing, talented, and engaging leader out there, we know there are dozens more leaders who miss the mark. It's time you start equipping your leaders with more data and insight into how to lead each member on their team and give insights into strengths and blind spots.  Bonus! Leaders who understand and maximize differences on your team will drive your diversity and inclusion missions!
Design
We've met with a lot of organizations that have tons of assessments and people data, and maybe even a strong leadership development program, but where they really fall short is designing for strategic action—they can't understand how talented individuals can't move a strategy forward as a team. Having good data is just the start. You have to have good data and analysis. Using a strategy and team assessment lets you articulate your strategy and plot it to the natural structure of each team; this way they can find their way through their blind spots to success. 
Diagnose
Once you've got your people, managers, and teams lined up for success, it's time to measure the internal performance of the organization: culture. This is the final strategic piece of talent optimization, moving from the tree, to see the forest. 
What type of assessments are included in Talent Optimization?
Within the Talent Optimization framework there are five assessments:
The Behavioral Assessment is an untimed, free-choice, stimulus-response tool that measured much more than a standard personality test and is given to all employees and candidates. This test has been used for more than 60 years by thousands of businesses around the world. The Behavioral Assessment is used to understand the personality traits that make an employee succeed. Another way to use the PI Behavioral Assessment is during the hiring process. This test helps find candidates who are hardwired to be a great fit for the job

2. Job Assessment
The Job Assessment is provided to three to five stakeholders regarding the job. It helps leaders create a profile for the type of person who would be a perfect fit for the functions of the job.

3. Cognitive Assessment
The Cognitive Assessment ensures an organization hires employees who have a high enough cognitive level to excel in the role they will be hired for. This way, new employees will catch up to speed quickly in the training program and perform the duties of the job with minimal issues.

4. Employee Engagement Assessment
The Employee Engagement assessment helps leaders keep their pulse on the organization. It helps determine why staff members may be disengaged, what the company is currently doing that is working and how you can take corrective action to increase engagement. 

The Strategy Assessment helps bring teams together to understand how they work as individuals and one unit and how they interact with the strategy. It ultimately aligns teams with your strategy helping them see their strengths and any blind spots they might have.

Talent Optimizations Helps Teams Get Stronger
Over the past several decades, Talent Optimization has helped thousands of clients to weather the storms of recessionary periods – and in some cases, even come out stronger.
But how?
Through the framework of Talent Optimization, you are empowering managers to inspire their teams so that employees feel engaged and driven, which in turn, creates not only a great work environment, but also the production of your company's best work.
According to the Predictive Index, Talent Optimization reveals four essential truths:
Talent Optimization exists within the business context.
This principle is not meant to alter your business strategy, but rather provide a way to elevate your organization's strategy into a way that allows your team to achieve valuable results.
 
Talent Optimization is driven by people data.
When it comes to talent recruitment, people data empowers business leaders to make objective decisions instead of solely relying on intuition. Though there is no way to portray the complete 360° of an individual, it can still help predict a subject's potential performance, which can make hiring less subjective

Talent Optimization must be embraced by leaders at every level.
For Talent Optimization to succeed, it must be adopted by leaders at every level of your organization – from the most senior leadership to individual contributors

Talent Optimization protects against the four forces of disengagement.
The four key causes of disengagement include misalignment with the job, with the manager, with the team, or with the culture, which all occurs by misinformed decision-making and talent procurement processes. While low engagement at a company can lead to poor productivity, absenteeism, safety issues, poor client service, or a toxic workplace culture, Talent Optimization works to fight low engagement by creating more opportunities for your employees to say they are proud to work for your organization.
Implement Talent Optimization in Your Organization
As businesses begin to return to normal, or plot their "new normal", we think it's the perfect time to get back to basics! At W Talent Solutions, we believe Talent Optimization is one way organizations can thrive through short-term and long-term obstacles. By focusing on the things we know will build your best team and then engage that team to get the highest results, we can help you optimize your talent and your business.
Interested in learning more? Reach out to speak to a Talent Advisor directly.